MEDIA RELEASE
AMBULANCE FEES UP, AMBULANCE SERVICE DELIVERY DOWN – THE PUBLIC ARE PAYING MORE BUT GETTING LESS
Whilst the State Government slipped through an increase to the cost of ambulance on the weekend, they continued to sit on their hands in providing the ambulance service South Australians deserve, putting lives at risk.
Ambulance Employees' Association (AEA) Secretary Phil Palmer said today "The Government has failed to deliver in its pre-election undertaking to our members to provide the funding needed to ensure enough ambulance resources to ensure South Australians are protected"
"It is misleading for the Government to suggest that the increase in fees goes to SAAS 'for development' " Mr Palmer said, "All revenue raised by our members goes straight to Treasury not to SA Ambulance".
"Meanwhile the service to the community is on the edge of a precipice, response times are getting increasingly worse, and AEA members despair at their inability to look after the community" Mr Palmer said "sadly, we expect more avoidable deaths as winter progresses – the Government will have blood on their hands."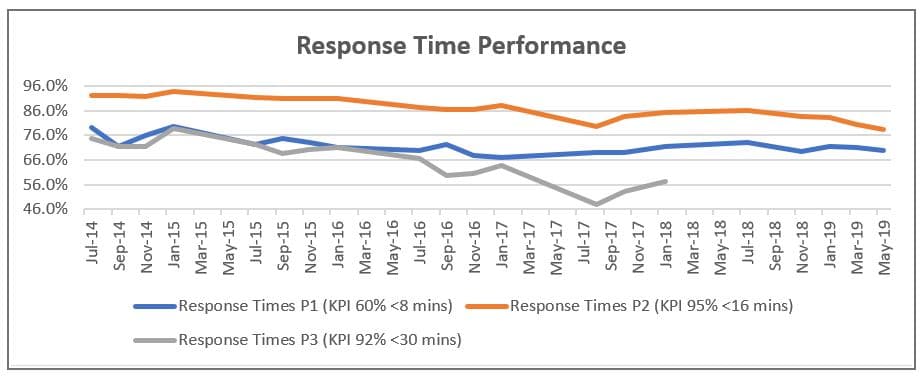 "They can afford millions of dollars to set up a hotel at Adelaide Oval, but can't seem to find the money to save lives and reduce suffering" Mr Palmer said.
"To make things worse, the already short supply of ambulance resources is made worse by ramping which, despite Government and CALHN spin, is worse that it ever has been." (see below):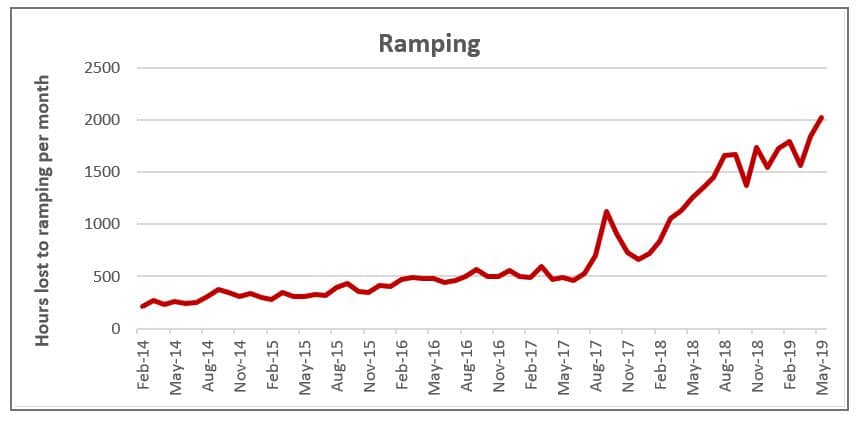 Mr Palmer said, "the ramping situation was so bad last week, SAAS started caring for patients inside the RAH ED, resulting in ambos doing the work of doctors and nurses, and there were so many ambulances tied up there were patients waiting much longer than they should to receive care and transport."
"All the talk that came out of the ramping workshop has had no affect at all; talk is cheap we need real action" Mr Palmer said
"Spin will definitely not save lives, urgent action is needed" Mr Palmer said "CALHN are asking 'if not us, then who?' – that is exactly what our members are wondering."
Desperate for respite, the AEA will be taking the Health Department to the Employment Tribunal to trying and bring about an end to the high risk to the community created by ramping.
For interested media colleagues, the AEA will hold a media conference at 2pm today (17th June 2019) at the Association's offices 13 Hindmarsh Place
Authorised by Phil Palmer, AEA Secretary 8340 3511