about the
AMBULANCE EMPLOYEES' ASSOCIATION
OF SOUTH AUSTRALIA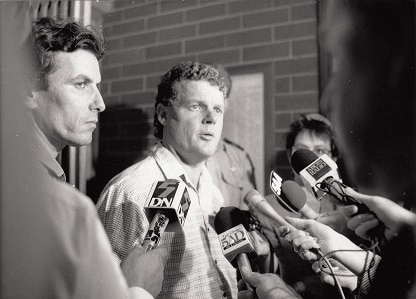 The AEA was formed in 1981 by South Australian ambulance officers so they could collectively pool their resources to protect their interests at work and advance their ability to care for South Australians.
The main issue at the time was a burning desire to force the Ambulance Service to become much more professional by improving training and education to match what was being delivered everywhere else in Australia. The Ambulance Service was run by St. John in those days and their philosophy was that career ambos were merely back-filler for the largely volunteer service.
The training regime was rudimentary, around 6 weeks, and it was being held back from progressing by St John for reasons of their own; certainly not in the best interests of patient care.
In March 1989, after years of industrial disputation and public campaigning, the AEA achieved its goal; the Government was forced to:
provide significant improvements to training and education;
employ enough career ambos to replace volunteers in the Adelaide metropolitan area;
Reduce the reliance on on-call rosters for career officers in rural locations.
The dispute that achieved these goals was bitterly fought  and ended up with St John and the Government conspiring to "stand down" all metro career staff. The Government gave in when it became clear that they could not sustain an ambulance service without the AEA members, and the tide of public opinion had turned in favour of what the union was doing.
Within 6 months we were gearing up for a fully professional Ambulance Service, proper tertiary education and associated improved clinical standards. This would not have happened if not for the union; it started the education evolution that is now at degree level and beyond.
In 1991, as a result of yet another dispute over the dismissal of a senior ambulance operations officer, St John decided to remove itself from the Service – a process that was finally complete in 2001. The senior staff member, Alf Gunther, was the Operations Manager for the Service and supported the AEA's push for higher clinical standards – that is why he was sacked and why the AEA fought for him. We did not get his job back, but we were instrumental in the removal of the then CEO (Bruce Patterson) and St. John. The new name (SA Ambulance Service), the new CEO (Ian Pickering), and an emphasis on improving clinical standards came out of this dispute.
The SA Ambulance Service would not be as it is today if not for the struggles of the AEA and its membership – it would still be run by St John, still have inappropriate reliance on volunteer involvement, still have "Third World" clinical standards, and still be the worst paid Service in Australia.
We intervene daily on behalf of individuals, groups and the membership as a whole.
The AEA has always had a role in advocating for the community on behalf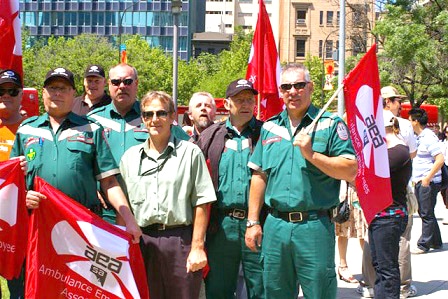 of its members and has sustained that to this very day. But unions have a bigger role than that important aspect alone; improving conditions and wages, advancing professionalism, representing members who are injured, or facing disciplinary action, or who have any of an array of grievances about management decisions. The AEA represents members collectively in dealing with restructures, Government policy matters, roster models and staffing levels; in fact, we are involved in every aspect of ambulance delivery in South Australia. The AEA has a rep on all operational selection panels, including the initial employment panel.
We have achieved a lot, but there is still plenty of work to do. The SA Health System is once again in crisis.
The AEA of SA is quite unique in Australia. It is one of the last small unions that have not been swallowed up by a large conglomerate union. Our bite is definitely worse than our bark. Despite our small size we have kept SA Ambos up with, or ahead of, interstate wages, and we have succeeded in pushing clinical delivery where SAAS is comparable to the rest of Australia.
The AEA is admired and envied by other health unions right across Australia for the conditions and rights we have won for its members. In an age where not everyone sees the benefit of belonging to union, people should be reminded that without this union, most of them would not have a job as an Ambo and those that did would not enjoy anywhere near the rights they currently have.
As good as things are, there is always room for improvement – with the support of our dedicated Shop Stewards and members the AEA will continue to create those improvements.
We must be doing something right, sustaining membership levels at more than 98% of ambos for 30 years. Members are clever, they know it pays to belong.
The objects of the Association (as set out in our rules) are: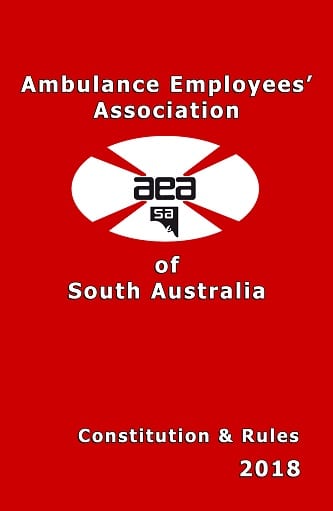 TO UPHOLD THE RIGHTS AND TO IMPROVE, PROTECT, AND FOSTER THE INTERESTS OF MEMBERS.
TO FORMULATE AND CARRY INTO OPERATION SCHEMES FOR THE INDUSTRIAL, SOCIAL INTELLECTUAL AND GENERAL ADVANCEMENT OF MEMBERS.
TO PRESERVE TO MEMBERS THE RIGHTS OF SUBMISSION TO ARBITRATION OF CLAIMS IN RELATION TO WAGES AND CONDITIONS OF EMPLOYMENT.
TO ASSIST BY AFFILIATION OR BY CO-OPERATION OR OTHERWISE, KINDRED ORGANISATIONS IN UPHOLDING AND ADVANCING THE RIGHTS, PRIVILEGES AND WELFARE OF AMBULANCE EMPLOYEES.
TO MAINTAIN A PUBLICATION TO PROMOTE THE OBJECTS OF THE ASSOCIATION.
TO AFFORD OPPORTUNITY TO DISCUSS MATTERS AFFECTING THE WELFARE, RIGHTS AND INTERESTS OF MEMBERS.
TO ACT AS A MEDIUM FOR THE EXPRESSION OF PROFESSIONAL OPINION ON ANY MATTERS RELATING TO EMPLOYMENT IN AMBULANCE SERVICES IN SOUTH AUSTRALIA.
TO ELECT OFFICERS AND TO EMPLOY EMPLOYEES FOR THE FURTHERANCE OF THE OBJECTS OF THE ASSOCIATION AND TO REMUNERATE SUCH OFFICERS AND EMPLOYEES BY SALARIES, WAGES, HONORARIA AND OTHER EMOLUMENTS, INCLUDING CONTRIBUTIONS TO AND FINANCING OF SUPERANNUATION SCHEMES OR RETIREMENT FUNDS FOR THE BENEFIT OF SUCH OFFICERS AND EMPLOYEES, AND TO ENTER INTO SUCH AGREEMENTS AS MAY BE NECESSARY FOR THE CARRYING OUT OF THIS PURPOSE.
TO TAKE STEPS UNDER THE LAWS TO ADVANCE OR PROTECT THE RIGHTS OF MEMBERS IN CONNECTION WITH THEIR EMPLOYMENT COLLECTIVELY OR INDIVIDUALLY.
In carrying out those objects, the AEA  has achieved much, including:
Professional rates in 2008 – lifting paramedic pay by around 30 – 40%. The first in to win this in Australia by many years. Some States still do not have it.
Fairer disciplinary processes (still a works in progress).
Representation of many hundreds of members individually and in groups of various sizes and functions, on a broad spectrum of issues
Rolled in Rate (averaged penalties) continued to be paid on Long Service Leave.
Increased staffing (and on-going campaigning to get more)
Active involvement in Health and safety issues:

Gained safer configuration of back of ambulances including conversion from two stretchers to single stretcher and safe stowage of gear.
Actively seeking, and gaining, evidence to support and advance our members' physical and psychological well-being. We have arrangements with four different tertiary education providers and other organisations to obtain evidence, support, and networking. They are all strong relationships, already delivering benefits.

Income Protection provisions for injured members beyond the Workers' Compensation Laws (albeit still arguing interpretation in court)
Professional Registration
Professional Indemnity Insurance for all paramedic AEA members
Successfully protected ESS from dissolution (twice)
Improved Superannuation benefits.
Networks with both major political parties and some of the minor parties

Sustained strong working relationships with both the Government of the day, the Opposition and some Cross-Benchers (Independents).

The AEA is also a 'political' (not party political) organisation, so we must operate effectively in that space too. We are fiercely independent, so not affiliated with any political party.
Sound working relationships with other health unions, and unions in general.
Strong media presence, and public support;
Consistently maintained a membership  coverage of 98% +. A very rare thing in the union movement today. This did not happen by accident.
Keeping constant pressure on Governments and SA Health to stop the scourge of ambulance ramping. Public awareness of this problem is high due solely to our efforts.
Naturally there are things we have not yet won such as reducing the utilisation rates, ramping and removing on-call, but we keep at it; as we do with all the issues we deal with.
In summary, the AEA delivers for its members.
Other than all that, as a dedicated ambulance employee and/or health professional why should I consider joining a union, and what should expect from my union when I sign up?
It is not unprofessional to belong to a union; on the contrary it is the professional thing to do.
Do not just join a union, be active in any way you can. Unions are democratic and will respond to members who take issues up to them.
Do not be afraid to give your union feedback – objective criticism is one of the best assets a union can have.
Unions should do what members tell them, not vice versa. However, this does not mean unions should not show leadership on issues.
When arguing cases in the courtroom, the meeting room, or in the public arena, unions like every other facet of society must have evidence to support their claims. Active "coal face" members are crucial to their unions' ability to obtain the evidence relevant to the profession. The union combines this with their knowledge of the industry, Industrial Legislation, academic evidence, and how the "game is played" to advance issues.
It is not unprofessional to be an active unionist; it means not being afraid to take on an issue or taking industrial action; but such activism does not have to be at the expense of being reasonable. Unfortunately, sometimes taking action is the only way an employer can be made to listen to a reasonable argument. In the AEA's case, any action we do take is always tailored to ensure no harm comes to our patients.